Absolute Force Online Starts Open Beta Today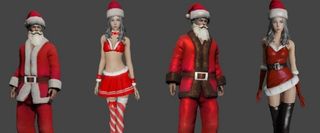 TQ Digital Entertainment announced today that the third-person action shooter, Absolute Force Online, has officially entered open beta and is out and available to the public. The game is a free-to-play affair so you don't have to bring your wallet to the sign-up screen, but the cash shop will probably be happy to see your wallet nonetheless.
The game has launched in time for Christmas so you can play it, for free, while you enjoy the holidays. What's more is that TQ Digital has also unveiled some wintery themed costumes and clothes for AFO players to help put gamers in the festive mood of spreading good cheer and joyous frolic through shotgun blasts to the face.
As stated in the press release...
AFO felt like a mix-up between Combat Arms and APB: Reloaded. I was neither impressed nor disappointed, but the game holds some form of fun in the tight, competitive, corridor shooting sub-genre. And even though the trailer promoted the game as a bit of an APB knockoff, it's a lot closer to Vogster Entertainment's CrimeCraft, but without the social districts or crafting elements.
You can hop into the action right now for Absolute Force Online by registering an account and downloading the client. After that it's free-to-play sailing. For more information simply visit the Official Website.
Staff Writer at CinemaBlend.
Your Daily Blend of Entertainment News
Thank you for signing up to CinemaBlend. You will receive a verification email shortly.
There was a problem. Please refresh the page and try again.