Ace Attorney 5 Coming To iOS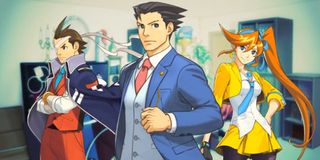 Phoenix Wright: Ace Attorney - Dual Destinies is no longer a 3DS exclusive. The game has arrived on iOS devices in Japan, with a Western release soon to follow.
"That app is headed for western shores (North America and Europe) very soon, complete with all the thrills, spills, mood matrices, and—oOOoo—HD resolution!" Capcom said in a new post on the Unity blog.
"I can't give an exact release date right now, but rest assured it will be quite soon, so for now let's just enjoy this fleeting moment in time where we know something great is on the way. Take that!"
There was no mention of an Android release. If that happens, it's probably going to happen sometime after the iOS launch.
In Ace Attorney games, the player must prove their client's innocence. They'll investigate crime scenes and uncover evidence. When the trial arrives, they must press witnesses and find contradictions in their testimony. The series is known for its offbeat humor, with players defending magicians, television samurai and other bizarre characters.
Phoenix Wright: Ace Attorney - Dual Destinies builds on the usual formula in a few ways. The game introduces 3D visuals, enabling players to rotate a crime scene during investigations. The trials are different as well, thanks to a new Mood Matrix mechanic. The Mood Matrix lets the player detect a witness' emotions, making it easier to spot lies.
Dual Destinies also introduces features to help players keep track of the full trial. Revisualization lets them connect various facts from the case to develop theories. The backlog includes all the previous dialogue from the trial. The trial's notes, meanwhile, explains the objectives of the case and all of the vital information.
The story of Dual Destinies picks up a year after Apollo Justice: Ace Attorney. Phoenix Wright returns to law to work alongside Apollo and another young lawyer, Athena Cykes
Dual Destinies debuted on 3DS in October 2013. Reviews were decent (83 Metacritic) so I'm sure mobile gamers are happy to receive the new chapter in Phoenix Wright's story.
It's a good deal for Capcom, too. They get to sell their game to a much wider audience. Not everyone's got a 3DS but damn near everyone's got a smartphone.
This will actually be the fourth Ace Attorney game released on iOS. Capcom ported the original trilogy to smartphones and tablets last May.
Image 1 of 3
Your Daily Blend of Entertainment News
Staff Writer at CinemaBlend.