Act Of Aggression Wants To Bring Back Golden Age Of Real Time Strategy Genre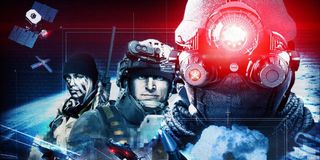 Today Eugen Systems released their real-time strategy game Act of Aggression on PC. They bill Aggression as an homage to "the Golden Era of RTS" during the 90's and early 00's.
Act of Aggression, like Command & Conquer: Generals, depicts a near-future conflict between three global superpowers. Each faction has their own weapons and units, based on existing or prototype equipment. You'll need to adopt a different playstyle for each army. The Cartel relies on stealthy but fragile units and the U.S. Army excels in brute force while Chimera can specialize their individual units in many different ways.
During each battle, factions will fight for resources spread across the maps. Players must establish refineries and supply lines and then defend them from enemy attacks. The armies can also fight for control of banks for extra income. Wounded enemy soldiers can be captured and then ransomed back to opposing armies.
The campaign for Act of Aggression focuses on the Chimera, an international task force formed after a worldwide economic crash. They quickly come into conflict with the Cartel, a shadowy group that has seized control of Russia and China's resources and that plans to do the same to the United States. As players progress through the campaign, they'll unlock missions from the Cartel's perspective.
Act of Aggression's multiplayer lets players skirmish in 20 maps across the globe. Eugen Systems promises dedicated servers for multiplayer along with a spectator mode so you can watch others wage war. The top players in the world will be tracked with 1v1 and 2v2 leaderboards.
You can purchase Act of Aggression through Steam or publisher Focus Home Interactive's store. Steam is offering a 15% discount between now and September 7th.
If the name Eugen Systems sounds familiar, it's because they've made several other real-time strategy games over the past 15 years. The company's credits include Act of War: Direct Action, R.U.S.E. and the Wargame series. R.U.S.E. was their only game to be released on consoles (Xbox 360 and PS3) so Aggression will likely stay a PC exclusive.
Staff Writer at CinemaBlend.
Your Daily Blend of Entertainment News
Thank you for signing up to CinemaBlend. You will receive a verification email shortly.
There was a problem. Please refresh the page and try again.