Age Of Conan Going Free-To-Play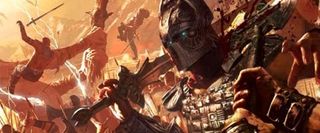 Funcom will make their medieval fantasy MMORPG Age of Conan: Hyborian Adventures free-to-play later this year. They plan to relaunch the game with the risque title Age of Conan: Unrated.
AoC: Unrated can be downloaded and played for no charge. Your access to the game is limited, though. For example, you'll be unable to play 8 of the 12 character classes and only get 2 character slots. In order to unlock the full game, you'll need to pay a subscription fee. The difference between the free-to-play and premium experiences is outlined in this chart.
Free-loading and subscribers alike can both access a new in-game store where you can purchase exclusive content. Examples of this content include weapons and mounts. These purchases are made with Funcom Points, which in turn are bought with real world money. You can add FunCom Points to your account via credit card, debit card, Paypal, PayByCash or ClickandBuy.
AoC is the latest in a string of subscriber-based MMO's to go free-to-play. Lord of the Rings Online, Champions Online, and Dungeons and Dragons Online have all relaunched with optional subs and microtransactions in recent history. Hellgate: London is expected to return, sans subscription, to North America next week.
According to the official Free-to-play FAQ, Funcom expects AoC to be relaunch with its new business model by this summer.
Staff Writer at CinemaBlend.
Your Daily Blend of Entertainment News
Thank you for signing up to CinemaBlend. You will receive a verification email shortly.
There was a problem. Please refresh the page and try again.