Age Of Conan: Hyborian Adventures Goes Free-To-Play, Again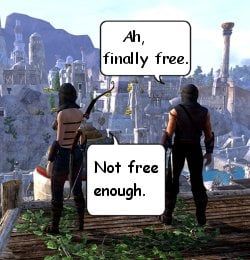 Funcom has been on a rollercoaster ride with their enormously scaled and somewhat popular MMORPG, Age of Conan. The game received a lot of press for being original and a uniquely designed MMO. However, given the game's numerous bugs and coupled in with the crappy economy, Age of Conan lost a lot of paying players. Nevertheless, Funcom knows how to bring people back...by launching yet another limited time free-to-play campaign.
Earlier this year Funcom launched a free-to-play event for the massive-multiplayer online RPG based on the Conan IP. The game's fleeing popularity and subscription-based payment module just wasn't going over too well for most gamers. The marketing tactic to revive AoC worked for a while with the free-to-play program, but it looks like it just wasn't enough to reel in all those paying subscribers from before.
According to Morten Larssen, Vice President of Sales and Marketing at Funcom, he stated that...
Yep, new and improved is a great way to make progress with a sales pitch. In addition to being free-to-play for a few weeks (yep it's only for a few weeks, folks), Age of Conan will have a series of in-game events to reward returning players with double experience bonuses and a few other goodies.
You can check out the complete list of "new and improved" features for the Age of Conan: Hyborian Adventures below or visit the Official Website to get started and jump into the action.
New Features For Subscribers Include:
• Subscribing for 1 month gives 7 days extra game time for no additional cost
• Subscribing for 3 months also guarantees a spot in open beta for The Secret World
• Subscribing for 6 months also gives a level 40 helmet with a 10% XP modifier
• Subscribing for 12 months also gives a free copy of the Rise of the Godslayer expansion
Staff Writer at CinemaBlend.
Your Daily Blend of Entertainment News
Thank you for signing up to CinemaBlend. You will receive a verification email shortly.
There was a problem. Please refresh the page and try again.