Age Of Empires Online Beta Open To All For Two Days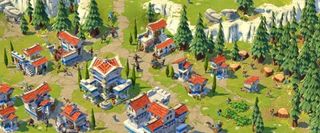 If you've been unable to get your hands on an Age of Empires Online beta key, fear not. For a limited time, Microsoft is opening the beta up to all interested gamers.
The Age of Empires Twitter account says you can head here to sign up for the beta. They'll only be giving out beta access freely for two days, though. The beta will revert to its usual "closed" status on 1:01am PST on Saturday.
Age of Empires Online is a massively multiplayer version of the long-running real-time strategy series. You can build historical empires and battle with or against players across the world. You can also trade and chat with other players, or simply show off the empire you've built. The game also features an RPG-like progression system, which gives you new items and units by completing quests.
When AoE Online officially launches later this year, it will be free to play. You'll have the option of purchasing premium content packs to enhance the experience, though. The premium packs are said to add new unit gear, technology, and other features.
Staff Writer at CinemaBlend.
Your Daily Blend of Entertainment News
Thank you for signing up to CinemaBlend. You will receive a verification email shortly.
There was a problem. Please refresh the page and try again.