Age Of Ultron Pinball Flips Onto Zen Platforms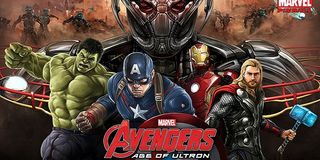 Looking forward to The Avengers: Age of Ultron, but having trouble waiting until the movie hits theaters on May 1 to get your super hero fix? Well, the team at Zen Studios has you covered, recently revealing a new Age of Ultron table heading to its various virtual pinball platforms on April 21.
Announced through the PlayStation Blog, the Age of Ultron table will arrive later this month for the PlayStation 4, PlayStation 3 and PlayStation Vita, as well as Zen's pinball libraries on PC, mobile and Xbox Platforms.
For those of you still somehow unfamiliar with Zen's breed of pinball, their tables are usually original creations or based on existing IPs but, along with mechanics, ramps and "toys" similar to those you'd find in real-world tables, they do an amazing job of creating gameplay features that could never be created in a physical table. From explosions and animated characters to additional play fields and the like, it's a nice mix of real pinball action with video game "umph" thrown in for good measure.
Zen has made quite a name for itself over the past few years, especially when it comes to tables based on licensed properties. They've done some fantastic work with South Park and The Walking Dead, as well as launched entire collections of tables set in the Marvel and Star Wars universes.
According to Zen Studios Community Manager Bobby Loertscher, the Age of Ultron table will be based on the upcoming film, where Captain America, Iron Man, Thor, The Hulk and Co. will wage war against the diabolical robot, Ultron.
An interesting feature for the Ultron table is that it will boast dedicated modes for each member of the Avengers team "including a first-person sharpshooting mini-game starring Hawkeye [and] a spectacular aerial melee combat sequence between Iron Man and Ultron,"
The table will also boast three difficulty settings, possibly making it one of the most accessible Zen tables to date.
Loertscher goes on to discuss the difficulties of designing a table while a big-budget movie is still being made, explaining that design decisions might have to be altered if, say, the plot takes a new turn or a costume is altered. She also explained that, since the table comes out alongside the movie, you won't have to fear any spoilers. You'll probably get a glimpse at some of the battles that take place in the movie, but no huge plot points will be revealed outside of "the Avengers have to throwdown with an army of killer robots."
Staff Writer for CinemaBlend.
Your Daily Blend of Entertainment News
Thank you for signing up to CinemaBlend. You will receive a verification email shortly.
There was a problem. Please refresh the page and try again.