Aion Going Free-To-Play In Europe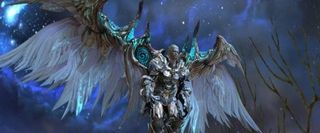 NCSoft seems to be testing the waters with the free-to-play model because their fantasy-flying MMO, Aion, will be converting to the free-to-play model under the GameForge publishing label in Europe beginning February, 2012.
Gameforge's Executive Director Alexander Rösner shared a few comments about the collaboration with NCSoft for distributing Aion as a free-to-play title in Europe, saying...
The game has a loyal following in South-East Asia and decent enough numbers from North American gamers, however NCSoft wanted to dip their toe in the free-to-play market with Aion over in the European territories to see if they could filter in more players from that territory.
Songyee Yoon, Chief Strategic Officer from NCsoft further clarified the transition, stating that...
This only applies to the Euro markets, and gamers from the U.S. who try to register or log-in will be redirected to the North America Aion portal, where the game is still pay-to-play. I'm sure some crafty gamers who really don't want to pay a monthly fee for Aion will find an alternative to get around the region barrier one way or another.
You can learn more about Aion's free-to-play transition in European territories by visiting the Official Website.
Staff Writer at CinemaBlend.
Your Daily Blend of Entertainment News
Thank you for signing up to CinemaBlend. You will receive a verification email shortly.
There was a problem. Please refresh the page and try again.