Alien Havoc 8-Bit Throwback Now Available For PSP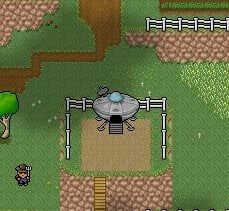 Creat Studios announced today that the PSP game, Alien Havoc, is currently available for the PSP and PSP Go as a mini-launch title. The game is available via download from the PlayStation Store and would probably go well as an accompanying title for gamers who picked up the PSP Go.
According to the press release, Vladimir Starzhevsky, CEO of Creat Studios commented saying…
The objective of the game sees players gathering up cows from farms for, uh…experimentation. You can check out some of the features for this wacky game below as it rekindles the era of 8-bit nostalgia. For more information be sure to visit the Official Website.
For more gaming news, updates, insight and media be sure to stay tuned in with Blend Games.
Alien Havoc Features Include:
• Classic Gameplay. Getting back to the basics, your objective is to fight the farmers and clear each level of all cows and reach the end with the highest score possible.
• Challenge yourself. 20 wacky levels, delivering a mix of mazes, puzzles and action.
• Customizable. Choose from four alien heads and customize the color of your alien's head and body.
Your Daily Blend of Entertainment News
Staff Writer at CinemaBlend.