Amazon And GoGamer Join The Orange Box Party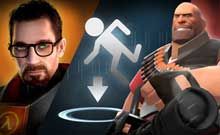 Is there any particular reason you have yet to pre-purchase The Orange Box? Well, if it's because you just couldn't find a good place to do it at, Valve announced that Amazon and GoGamer have joined the pre-purchase program. If you order the game before October 10th from either place you'll receive 10% off the regular price, just like the previously announced deals from GameStop and Steamgames.com. You'll also be able to jump into the Team Fortress 2 beta for some mega multiplayer action.
The Orange Box is the ultimate value package for gamers. Included is the entire Half-Life 2 experience, the puzzle game Portal, and of course the multiplayer masterpiece Team Fortress 2. Sweet Jesus it's a damn fine time to be a gamer when deals like this are just thrown at our feet.
If you do pre-purchase from a retail outlet be sure to get your key-code so you can download and activate the TF2 beta, which ends on October 10th. The Orange Box will be available next week for $49.95 on PC, and $59.95 for 360. The PS3 version will be arriving later.
Staff Writer at CinemaBlend.
Your Daily Blend of Entertainment News
Thank you for signing up to CinemaBlend. You will receive a verification email shortly.
There was a problem. Please refresh the page and try again.