America's Army Game Is Bigger Than America's Real Army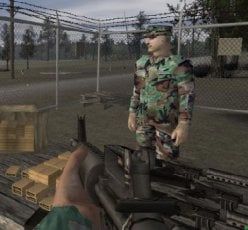 Yes, America's Army the game, is a bigger community of virtual army-goers than the real thing. In fact, America's Army has a virtual community that garnered a Guinness Award for games for the year 2009. Nice. However, that wasn't the only award it received from the "Gamer's Bible".
The first award America's Army received was for having 15 times more subscribers than the real-life amount of soldiers in America's U.S. Army. Yes, during 2007 the virtual community had acquired eight million subscribers as opposed to the meager 519,472 soldiers that comprise of the U.S. Army. I don't know if I would want to broadcast that information publicly…in a way it's sort of like saying America's real Army isn't as cool as the virtual one. I'm just saying.
Another award the franchise received was for the most downloaded war game franchise. It has a record of more than 42 million downloads for its various iterations. America's Army received awards also for most time gamers spent playing a free online shooter (as of August the recorded amount of playing hours clocked in at 230,918,365). Awards for largest traveling game simulator was handed out, along with being the earliest military game supported on a military website and officiated by the U.S. Military.
All righty, enough gloating over this game. You can learn more about America's Army and it's latest iteration (America's Army 3) by visiting the Official America's Army Website. The Guinness Book of World Records: Gamer's Edition retails for $21.95…for those of you want pick it up and become super man-nerds about gaming history and information.
As always, stay tuned in with Blend Games for further updates and news regarding all things gaming.
Staff Writer at CinemaBlend.
Your Daily Blend of Entertainment News
Thank you for signing up to CinemaBlend. You will receive a verification email shortly.
There was a problem. Please refresh the page and try again.