Apple Praised By Greenpeace; Dell Labeled As A Toxic Offender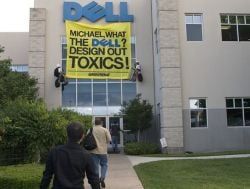 There's nothing new or shocking about this news story here. Greenpeace released its consumer electronics ranking and to no great surprise Dell ranked as one of the worst offenders on the list. For a company that treats many of its customers like Lemmings with products designed to last about as long as a box of donuts, I'm not surprised at all.
According to Greenpeace International Toxics Campaigner Casey Harrell…
The real ordeal isn't with the quality of Dells' products, however. Greenpeace is nailing the electronic giant for their continued use of polyvinyl chloride (PVC) plastic and brominated flame retardants, chemicals that Apple and HP have mostly eliminated from their technological line-up.
Dell currently ranks 10th in the quarterly Greenpeace guide for greener electronics and Greenpeace even went so far as to hang a banner from the Dell global headquarters, directed at the CEO of Dell, Michael Dell, which says "Michael, What the Dell? Design Out Toxics."
Harrell later commented in the report that...
Ah, it's good to know some people aren't afraid to stick it to the big corporations. You can check out a TV bit that Greenpeace plans to run on MTV and ESPN over at Blip TV.
I'm sure some gamers are questioning if this will this have any effect on Dell's Alienware line. Well, it shouldn't. Nevertheless, Greenpeace will continue to protest until Dell gets their act together. For more info be sure to visit the Official Greenpeace Website.
Your Daily Blend of Entertainment News
Staff Writer at CinemaBlend.