Arctic Combat Coming To Steam December 6th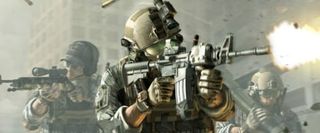 Webzen has already let loose plenty of beta promo codes for Arctic Combat and now it's time to prep for the actual release of the game in just two days via Webzen's own game portal and on Valve's highly popular digital distribution service, Steam.
The first-person shooter pits the U.S., led alliance against the Russian forces in a battle for the arctic. It's like the Cold War all over again, except this time it's actually in a really cold place and has nothing to do with espionage data intelligence and everything to do with shooting people in the face with really big guns.
Jihun Lee, head of global publishing for Webzen, stated in the press release that...
Much like A.V.A., Combat Arms, Operation 7 and all those other MOFPS titles out there, gamers will rank up their skills, customize their character and aim to unlock new and better weapons and attachments by planting headshots, quick-scoping and partaking in all the other niceties that go along with playing free-to-play first-person shooters.
You can register an account for Arctic Combat right now or learn more about the game before it heads into open beta by visiting the Official Website. Also, be sure to keep your eye on special events and giveaways on the day of launch, as Webzen will be holding plenty of contests and having prizes up for grabs.
Staff Writer at CinemaBlend.
Your Daily Blend of Entertainment News
Thank you for signing up to CinemaBlend. You will receive a verification email shortly.
There was a problem. Please refresh the page and try again.