BackStab Launches For iOS And Puts PSP And 3DS Games To Shame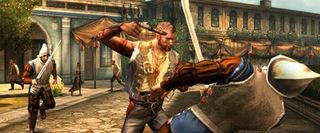 It was only a matter of time before iOS titles caught up to and eventually surpassed the handheld games offered by the PSP, DS and 3DS, and aside from Epic's Infinity Blade another new game has joined the ranks of visually stunning gameplay meets visually stunning graphics and it's called BackStab.
GameLoft's third-person adventure title basically takes place during the revolutionary period and gamers take o the role of Blake, a once proud soldier in the British Royal Navy who was betrayed and it's time for him to…dun, dun, dun, BackStab. Despite the overly simplistic plot the game actually contains some fun-filled elements that combines a little bit of Pirates of the Caribbean with Tomb Raider and a hint of Uncharted.
The graphics are surprisingly crisp and detailed to be on a mobile device and the gameplay itself has a nice mixture of transitional platform elements, melee combat and even some minor use of ranged weapons. Now I'm starting to question why the heck we didn't get a game like this on the bigger home consoles? …Really?
You can pick up BackStab for the iPhone, iPod Touch or other iOS devices for only $6.99. Need to learn more? Head on over to the Official iTunes Page. The launch trailer for BackStab can be viewed below.
Your Daily Blend of Entertainment News
Staff Writer at CinemaBlend.