Barack Obama And Mitt Romney Battle Ogres In Dungeon Defenders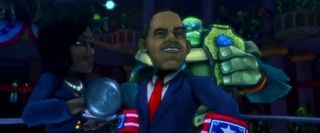 All that talk about Obama being a pansy and Mitt Romney being too pretty to be the Commander in Chief is hogwash. Both Obama and Romney are out to prove that they're as tough as manly-men like Mike Rowe, Sylvester Stallone and Jason Stathom as they suit up and fight hordes of baddies in Trendy Entertainment's Dungeon Defenders.
Obama won't be doing the ogre slaying alone, though, Michelle Obama will be right by his side kicking butt and taking names as well.
The Obamas and Romney will be available for a limited time as free DLC for the PC version of Dungeon Defenders. In addition to this a new Battle Royale ring will also be available so gamers can duke it out in the ring to see who the greatest politician is.
Pretty hilarious eh? The game itself offers up almost endless amounts of fun and plenty of unlockable and lootable items simply by playing through various maps on harder difficulty settings.
The President's Day Battle Royale DLC will be available on Steam later today, for free, for a limited time. For more information be sure to pay a visit to the Official Dungeon Defenders Website.
Staff Writer at CinemaBlend.
Your Daily Blend of Entertainment News
Thank you for signing up to CinemaBlend. You will receive a verification email shortly.
There was a problem. Please refresh the page and try again.