BeGone: F2P 3D Browser Shooter Is Live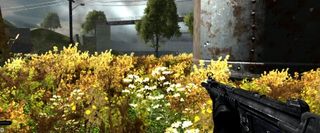 NPlay must feel somewhat proud at the moment with their recently released 3D, browser-based, first-person shooter, BeGone. The game is currently live and available to play, right from the very comfort of your web browser.
As part of the new wave of interactive entertainment flooding the market thanks to advanced, new generation development tools, BeGone is a simplified shooter for fans who may feel like easing some stress during lunchbreak or letting off some head-shot steam before hitting the sack. The game runs on the Unity3D engine, which allow developers to easily and efficiently offer consumers high quality products at only a fraction of the cost that most big studios pour into single-A projects.
You can currently play the game…for free. There are a handful of weapons and a rather spacious team-oriented map that is surprisingly more tactical than you might think. For more info feel free to visit the Official Website.
Staff Writer at CinemaBlend.
Your Daily Blend of Entertainment News
Thank you for signing up to CinemaBlend. You will receive a verification email shortly.
There was a problem. Please refresh the page and try again.