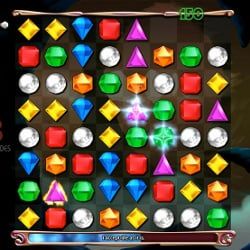 Today PopCap Games announced another installment in their popular Bejeweled series. Bejeweled 3, the first true sequel in six years, will be arriving on December 7th.
B3 has enhanced versions of the four game modes from its predecessor. Also included are four secret games and a Quest mode. There will be 65 badges in total for you to earn through the puzzles.
A lot of fans of the series would play B3 even if it looked and sounded like ass. However, PopCap Games is looking to bump up the production values with this installment. The game features HD graphics and high fidelity audio. You can customize the ambient sounds and beats to set the mood right.
B3 will cost $19.95 upon release. It's going to be available at PopCap.com as well as other digital outlets throughout North America, Europe, and Asia. North American gamers will be able to pick boxed copies in stores, too.
Staff Writer at CinemaBlend.
Your Daily Blend of Entertainment News
Thank you for signing up to CinemaBlend. You will receive a verification email shortly.
There was a problem. Please refresh the page and try again.