Beowulf Brings English Lit To Your Console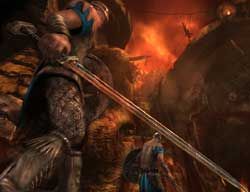 Most people don't know a lot about "Beowulf", the Old English elegy written between 700 and 1000 A.D. Even English majors ignore the poem's significance of being one of the first tales ever written in the English language and instead feel just a little sick at the sight of all the Old English that needs to be translated for homework. However, gamers and movie-goers alike will now have a reason to embrace the ancient legend of a great hero when the movie and its accompanying game arrive in November.
Here's a brief background: Beowulf is a warrior who kills a monster named Grendel. The translation from this point on causes controversy among the scholars who study this stuff, but the movie, directed by Robert Zemeckis, has Grendel's mother taking revenge (although she is not the main antagonist in the poem). According to the Beowulf movie website's official press release, Zemeckis, who has been working on the game with Ubisoft, believes that the game will not only compliment the movie but will enhance it.
"Not only does the film have a compelling story and strong visual style that will translate well into a game, but because the film is entirely digital, we are able to share our assets with Ubisoft. Audiences will be able to make a seamless transition between the film and the game."
As a former English major myself, I truly enjoy when classic literature is turned into good games and I am always eager for more. Although the Genji games were better in idea than in execution (they were loosely based on the epic Japanese poem "The Tale of Genji") that is not to say that classic lit-to-game transitions can't be great. I'm waiting for someone to turn Homer's "Odyssey" into a game (God of War gets a lot of that Greek mythology stuff wrong). But until then, Beowulf will have to stave my longing for my two loves to blend into one. Look for it November 13th for Xbox 360, Playstation 3, and PC.
Below is a fact sheet on what you can expect to be playing when Beowulf releases:
Delve even deeper into the adventure and play through 30 years of the Beowulf story not seen in the movie. Experience more of Beowulf's life and mold your own legacy.


Unlock an army of up to 12 thanes as you increase your heroic experience (by saving thanes, killing giant monsters, etc.).


Carnal Power allows you to use stronger attacks and special weapons such as pillars.


Giver orders, assign your army's position, and tailor weapons to the situation or enemy.


Use your army to trigger mechanisms (e.g., open doors) and row Drakar.


Carnal upgrades include less daze after use and prolonged use of carnal fury.


Combos, parries, and skills increase as you progress.


Grab allows you to hold on to walls or climb, as well as fight in hand-to-hand combat with enemies and giant monsters.


Use legacy experience points to gain thanes, replace weapons, and upgrade your carnal abilities.


The mystical world of Beowulf comes to life in stunning fashion. Powered by the next evolution of the award-winning YETI technology used to create the critically acclaimed Tom Clancy's Ghost Recon Advanced Warfighter and Tom Clancy's Ghost Recon Advanced Warfighter 2, Beowulf delivers an unrivaled graphical experience.
Your Daily Blend of Entertainment News
Thank you for signing up to CinemaBlend. You will receive a verification email shortly.
There was a problem. Please refresh the page and try again.