Big Fish Unlimited Streams 100+ Games On Android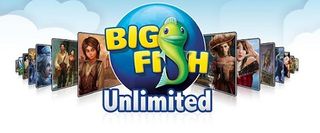 Gaming on mobile devices comes with its limitations. For starters, you need to buy a massive memory card if you want to store more than a handful of games on your device. Secondly, keeping all of those games organized can be something of a hassle. Casual Game developer Big Fish might offer the perfect solution with its latest release, Big Fish Unlimited. It offers more than 100 games, all streamed to your Android device of choice.
What Big Fish is doing here is, in my opinion, the future of mobile gaming. It uses up less space, gives publishers/developers a direct line to their customers to introduce them to new games, and it provides an amazing service to mobile gamers who don't like putting up with the types of drawbacks I was just talking about.
With this single free app, you have access to a truckload of Big Fish's biggest games, spanning genres like hidden object, match 3, time management and more. The catch is that you need Wi-Fi access for the streaming service to work but, nowadays, that's becoming easier and easier to come by. And one of these days there might actually be a wireless signal that's comparable to Wi-Fi and, when that happens, services like Big Fish Unlimited will become even better.
Finally, everything available on Big Fish Unlimited offers cross-play and cross-save, meaning you can start off playing a game on your mobile device, then pick up right where you left off from your home PC.
To try it out for yourself, download Big Fish Unlimited from Google Play.
Staff Writer for CinemaBlend.
Your Daily Blend of Entertainment News
Thank you for signing up to CinemaBlend. You will receive a verification email shortly.
There was a problem. Please refresh the page and try again.