BioShock 2 Co-op Play Confirmed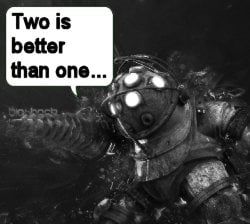 Wow, big news, huh? Yeah, well before everyone starts with the whole "How do you know this?" and "Kotaku didn't say; it must not be true!" Just know that leading game magazine, Game Informer, dropped some info and it only bodes well for gamers in the long run.
A forum reader from Co-Optimus spotted the info in the latest issue of Game Informer. So how did they find it and what does it reveal? Well, click the link to get in on the loop.
Unfortunately, not a whole lot of information has been poured out to the public regarding the cooperative functionality of the game. But honestly, does it really matter? So long as gamers can bust down some Big Daddy scuba divers and Big Sister mechanical monsters, I don't think there's anything else worth knowing about BioShock 2.
For more info, news, updates and insight, be sure to stay tuned in with Blend Games.
Staff Writer at CinemaBlend.
Your Daily Blend of Entertainment News
Thank you for signing up to CinemaBlend. You will receive a verification email shortly.
There was a problem. Please refresh the page and try again.