BioShock Real-Life Photoshoot Featuring Big Daddy And Little Sister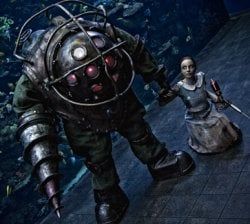 Volpin Props recently released some new wallpapers from a photoshoot involving a Big Daddy and Little Sister from 2K Games' BioShock. That probably doesn't seem all that important unless you take into account that it involved real life props and people.
The story behind the shoot involved Volpin contacting the Georga Aquarium for permission to snap a few photos there.
According to the Volpin Props website...
There's a collection of the photos up at the site that look astonishing. You can check them out by visiting the Official Volpin Props Website.
Also, the Big Daddy prop is up for sale via eBay. (opens in new tab) I'm sure die-hard BioShock fans might want that sitting in the corner of their living room to scare the crap out of guests.
Staff Writer at CinemaBlend.
Your Daily Blend of Entertainment News
Thank you for signing up to CinemaBlend. You will receive a verification email shortly.
There was a problem. Please refresh the page and try again.