Blackberry Giving Away Free SteelSeries, MOGA Pro Controllers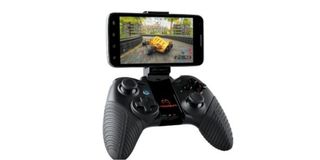 While a large portion of the gaming industry is all-in on touchscreen this and motion-control that, some companies still recognize the fruitful venture of sticking to classic schemes that work, such as using a game controller for video games. Blackberry, in fact, has taken an opportunity to reward developers who add gamepad support to their apps by giving away free gamepads.
As noted on the official Blackberry developer blog, the promotion comes on the heels of the recent developer conference, where Blackberry is pushing hard for app developers to make their games more appealing to the core audience... that's right, a mobile company recognizes that they want core gamers and they'll need core-controls if they want to win them over.
Blackberry's development blog notes that...
I have got to say, that MOGA Pro controller is like the Nissand 370z of gaming controllers: sleek, small and sexier than your supermodel neighbor.
Now if you have an app that features some form of traditional gameplay mechanics that can make the most out of the implementation of a controller then you'll probably want to get in on this deal before it's too late. Besides, adding controller support and getting a free MOGA Pro and SteelSeries controller is like having jelly added to an already powdered doughnut with sprinkles on top.
While this bit of news might seem from out of left field, take note that this fits perfectly in line with what Blackberry has been doing since the Z10 released; they're going after core gamers with core games and harvesting developers under their wing for exclusive titles wherever they can get them. This was made especially evident when they signed a deal with Unity Technologies to bring the Unity 3D game engine support to Blackberry, which was very noteworthy as the tools and the design of the Blackberry makes it possible to port games from one system to the next in under a day. That's very impressive.
This sort of outreach toward developers should easily make Blackberry look like a good alternative to developers who may not be as infatuated with the mobile outlet as some industry pundits and market reports have let on.
If you would like to be eligible to receive a free MOGA Pro controller and SteelSeries controller, you just have to follow a few steps with your Blackberry app, apart from using the Native SDK 2.0 and BB OS 10.1. The instructions are below or you can visit the official Blackberry developer blog for more information about the free controller promotion. Eligibility is limited to 250 developers and runs from today (September 24th) to December 24th, 2013. So work fast y'all.
1. ) Identify your app as gamepad enabled. Add the
[[ permission ]] use_gamepad into your bar-descriptor to ensure BlackBerry World finds your application as gamepad enabled. If you're using Unity, be sure to add "Gamepad" into the submission keywords for BlackBerry World.
2.) Use the new gamepad functionality using screen library for new gamepad events and for polling analog joystick and button state values.
3.) Ensure your gamepad support works right out of the gate with default button configuration in place on all menus and within gameplay
4.) Click here for a full description on how to add gamepad support to your app.
Staff Writer at CinemaBlend.
Your Daily Blend of Entertainment News
Thank you for signing up to CinemaBlend. You will receive a verification email shortly.
There was a problem. Please refresh the page and try again.