Blacklight: Retribution Now Officially Available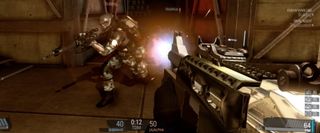 Perfect World Entertainment has announced that their free-to-play first-person shooter, Blacklight: Retribution has completed its beta testing and is now officially available to gamers, casual fans and shooter fanatics alike.
Kelly Dickinson, Product Manager, Perfect World Entertainment commented in the press release, saying...
The game features a mix of cash-shop microtransactions and actual in-game unlocks. So for people short on time you can unlock extra stuff via paying money for it, and for those of you who have nothing but time on your hands you can unlock everything just by playing the game. It's a great microtransaction model because it offers consumers a lot of choice, something Capcom needs to learn how to do with their DLC model.
Blacklight: Retribution offers gamers the fast-paced, dynamic FPS action common in most other games with the slight difference being that there is a huge focus on customization, whether it be your character or weapons. Changing armor, helmets, and accessories can alter your character going from a stealthy CQC operative to a long-range tank and everything else in between.
What's more is that the weapon modifications enable gamers to build the perfect tools of destruction, allowing for all sorts of attachments and mods, ranging from extended clips to silencers, barrel extenders and plenty of scopes.
Perfect World released some stats from the game's beta just to give gamers an idea of how the game performed. You can hop right into Blacklight: Retribution right now by downloading the client from the Official Website. The game is entirely free-to-play.
Blacklight: Retribution Stats:
• 14 Million Minutes Played
• 280 Million Shots Fired
• 13 Million Agents K.I.A.
• 494 Million Combat Points Spent
• 21 Million GP Earned
• 1.3 Million Headshots
• 300,000 Melee Kills
• 255639 Flags Capped
• 40 Countries Represented
Staff Writer at CinemaBlend.
Your Daily Blend of Entertainment News
Thank you for signing up to CinemaBlend. You will receive a verification email shortly.
There was a problem. Please refresh the page and try again.