Blend Games Giveaway: Call Of Duty 4: Modern Warfare - UPDATED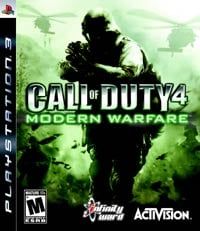 As our note in the original contest indicated, we are bringing you an all new contest to win Call of Duty 4: Modern Warfare on the PS3. Why are we doing this? Because when someone emails in 10,000 times, and other locations perpetuate such antics, our readers lose out. How can we possibly tell that you are the one that is winning the prize, dear reader? The answer is in our new rules, which can be found below. We hate having to make changes, as our contests were designed to be as easy as possible on you. But we have to accept that some people are scum, and just move on with our lives.
We enjoyed telling you about our favorite games of 2007. It made us tremble in anticipation as we broke forth with the news that Call of Duty 4: Modern Warfare was one of the best we had played. Why the anticipation? Because we'd like for you to join us in the war. Yup, we're giving away a shiny new copy of Call of Duty 4: Modern Warfare for the PS3.
Normal contests have you composing essays, or embarrassing yourself in song. We at Blend Games love nothing more than the suffering of people made to act like a jackass. It's a great joy. Unfortunately we are also too lazy to be bothered going out to see you perform self-aggrandizing atrocities. So we've decided to make the steps to get to a free game as easy as possible.
What we here at Blend Games have for one lucky reader is a free copy of the PS3 version of Call of Duty 4: Modern Warfare, but you'll have to work for it. Please read the rules carefully, follow them, and enjoy the wait as your local deliveryman carts the box to your doorstep.
The NEW Rules:
To enter the Cinema Blend – COD4– give-away, simply leave a comment below. Any old comment will do, but you only get one entry. Comments MUST be received by Friday, 01/11/2008 at 11:59pm CST. One winner will be selected at random. The winner will be notified via the email address provided when leaving a comment, and the game will be mailed to an address provided by the winner.
Additional rules: Cinema Blend staff members are ineligible to enter. We can only ship to addresses in the continental U.S. so only entrants with a US mailing address can participate. No PO Boxes please. No purchase necessary. Failure to comply with the rules will result in your disqualification from the contest.
Your Daily Blend of Entertainment News
Staff Writer at CinemaBlend.