BlizzCon 2009: StarCraft II Marketplace Sells User Maps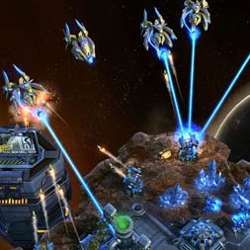 Like StarCraft and WarCraft III, StarCraft II will be released with a map editor so players can create their own battlegrounds. There's one big difference between SC2's editor and previous games' toolsets though: you'll be able to sell your maps.
At a BlizzCon panel, Blizzard VP of Game Design Rob Pardo revealed that the new Battle.net will include a service called StarCraft II Marketplace. The marketplace will be a place to share and rate user-generated content such as maps and mods. Amateur builders will be able to release their creations as free or premium content.
"We want to make sure that the best amateur game designers out there are making maps for StarCraft II, and not for Kongregate or Steam or anything like that," said Pardo.
A portion of the revenue from the premium content will go to the creators. Certain maps could have match-making or Achievements support added to them if they prove to be popular. To give the building community some early practice, the map editor will be available during the StarCraft II beta set to launch later this year.
Staff Writer at CinemaBlend.
Your Daily Blend of Entertainment News
Thank you for signing up to CinemaBlend. You will receive a verification email shortly.
There was a problem. Please refresh the page and try again.