BlizzCon 2009: World Of WarCraft Dragonflight Beer Stein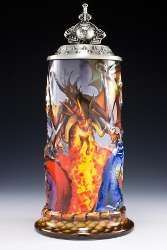 At this year's BlizzCon, 3 Point Entertainment will present the latest addition in their line of World of Warcraft beer steins. It's called "Charge of the Great Dragonflight" and yes, we've got pictures.
The "Dragonflight" stein features a bas-relief illustration of the five Dragon Aspects. It also sports a pewter lid and a dragon tail handle. If you need me to explain what the Dragon Aspects are, you probably aren't going to shell out $89.99 for this baby.
According to 3 Point's Twitter, the company will begin accepting pre-orders next Thursday. The steins will ship in early October.
Image 1 of 3
Image 2 of 3
Image 3 of 3
Staff Writer at CinemaBlend.
Your Daily Blend of Entertainment News
Thank you for signing up to CinemaBlend. You will receive a verification email shortly.
There was a problem. Please refresh the page and try again.