Blue Dragon New Map Sequence Trailer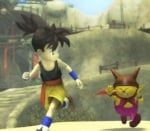 It seems like poor North American RPG fans are being tortured and taunted with the flaunting of all these Blue Dragon promotional videos, trailers, screenshots, and Japanese launch news. But the wait is almost over...for another new trailer of Blue Dragon. Yep, you still have to wait until mid 2007 for Blue Dragon to hit North American retail outlets.
The game features classical RPG-style visuals, a story line that is comprised of a young hero mastering the "Dragon Shadow" and tons of gameplay that fills up 3 DVDs. While you patiently (or raucously) wait for this Xbox 360 RPG to make the steady, slow, and unbearably time insensitive process of being localized, you can view a new trailer of the game below. Enjoy, and happy holidays!
Staff Writer at CinemaBlend.
Your Daily Blend of Entertainment News
Thank you for signing up to CinemaBlend. You will receive a verification email shortly.
There was a problem. Please refresh the page and try again.