Borderlands Blend - Day 5: A Better Game Than KillZone 2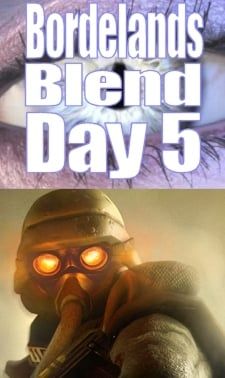 Here's the final day of our road to hype Borderlands. And while we covered everything the game has to offer, there's still the important factor surrounding the game's marketing appeal. While Borderlands supports more features and functionality than just about any shooter game currently in development for this year and early next year, the game has yet to receive the kind of marketing support from journalists and gamers alike.
Both KillZone 2 and Borderlands are aimed to come out in 2009, yet KillZone 2 has been everywhere at all times -- ever since its debut back at E3 2006. Since then, KillZone 2 has yet to cool down in the fanboy circles. Well, it's time to drop a bomb: Borderlands will be better than KillZone 2. People can get angry, but it doesn't matter. Now I'm not saying that KillZone 2 won't be good, I'm simply saying that Borderlands will be better.
It's easy to say that "KillZone 2 will own" and how it's "going to be a great game", etc., etc. But let's take into account one thing with KillZone 2: take away the graphics and what do you have? The problem is that aside from the visual presentation, there isn't much we've seen from KillZone 2 that isn't being done in current Call of Duty games, or for that matter, Resistance 2. Still, Borderlands is being vastly overlooked for the sake of Sony's grandiose first-party title that has reenacted its role as a "Halo killer".
There's no doubt in my mind, however, that KillZone 2 might be better than Halo 3. But the game seems to have garnered more hype in regards to its graphical "Halo killer" status more than actually being a game that brings something new to the table of interactivity. Borderlands, alternatively, has lots to offer as a shooter, as an RPG, as a vehicular combat-racer and as an overall interactive experience. Yet it takes a heck of a lot to get this game noticed at all. When new interviews pop up for Borderlands, no one seems to notice. One fuzzy, who-gives-a-care screenshot will arise for KillZone 2 and the internet gaming community fills with uproarious exuberance.
But who can blame a community of journalists just trying to make a hit on an over-hyped game? You can't. However, you would think that some people might get creative enough to try to hype games that deserve the hype. Yes, Borderlands will approach its release with some steam behind it, but certainly not like KillZone 2. This is despite the fact that both games will be released in 2009 and both games happen to be shooters. It appears the gaming community is vastly overlooking a project that redefines creativity for a project that aims to be a graphical masterpiece. Although, my main concern with this is that KillZone 2 could re-usher in the age of graphics over gameplay. Everyone will be scrambling to recreate shooters as a graphical, artsy project, rather than seeking originality or gameplay depth, which are the two things KillZone 2 lacks. This could become especially evident if the PS3 shooter happens to eat over Borderlands' sales. Sort of like how Halo 2's hype ate over Half Life 2's popularity for the Xbox, back in 2004.
Now a lot can happen from here until 2009...and maybe 2K Games has a hidden marketing strategy for one of the most ambitious projects in the history of video games. Nevertheless, we'll continue to periodically cover Borderlands here at Blend Games, just to keep the game fresh in the minds of gamers. And remember, you can also drop by the Blend Games Forum to share your view on this topic and other gaming discussions, or visit the Official Borderlands Website for more info.
Note: If you still don't know what Borderlands is about, please refer to our previous coverage of the game throughout the week. The links are below:
Borderlands Blend - Day 1: 499972 More Weapons Than Halo 3
Borderlands Blend - Day 2: Vehicles You Won't Find In Gran Turismo 5
Borderlands Blend - Day 3: Fallout 3 Character Comparison
Borderlands Blend - Day 4: When Diablo III Meets Halo 3
Staff Writer at CinemaBlend.