Born To Fire Gameplay Details, Screenshots Surface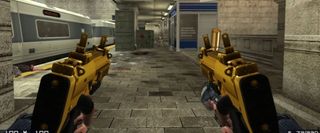 Aeria Games announced that Born to Fire, the free-to-play MOFPS, is still currently in development and accepting closed beta applications. In addition to this the company has let a few gameplay details slip along with some in-game screenshots.
The game will sport the typical PvP type deathmatch options, along with bomb defusal and siege modes. Born to Fire will launch with 12 playable maps so boredom shouldn't be much of an option right out of the gate. Also, 12 maps is kind of a lot for a new game. Most established games barely have 12 maps...so that's fairly impressive.
One of the more unique features is the game's spectator mode for tournament or competitive play, as mentioned in the press release...
For those of you questioning what type of competitive shooter Born to Fire is, the best way to sum it up is....Call of Duty.
You can dual-wield gold SMGs, use riot-shields to absorb gunfire and generally run around as if you're a freshly fuelled Ferrari, blasting through people with speed and unrealistic accuracy to COD-style satisfaction.
If you enjoy FPS "Me-Too" games that are also free-to-play, Born to Fire could be the game for you. The game is rather easy on system requirements so you don't have to worry about needing a high-end rig to enjoy the game.
You can learn more about the game, which is still in development, by paying a visit to the Official Born to Fire Website.
Image 1 of 6
Your Daily Blend of Entertainment News
Staff Writer at CinemaBlend.