Brutal Hexen Receives Interactive Items, Wildlife, New Class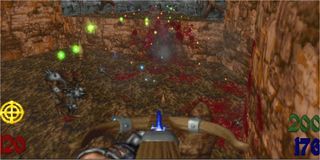 Dang, Hexen is going back old-school....real old-school. The original game that helped make waves during the ultra-violence era of first-person shooters during the early 1990s is making a return to form in the same way that Doom was revitalized as Brutal Doom. The same modder that took the gaming space by storm with Brutal Doom has released a new beta for Brutal Hexen, bringing with it a number of new changes.
DSO Gaming runs through some of the new changes added in beta, with modder SGtMarkIV (Cyber Commandos for the win) releasing the following details on what was added to the latest beta:
This is some pretty cool stuff for a game as old as Hexen. Although, to be honest, I was never a fan of the original Hexen and took a much stronger liking to both Hexen II and the Herectic series. Still, with all those cool FPS titles out back in the day you could never have enough variety.
If what's mentioned above in the beta has your intriguing parts tingling with the sensation of curiosity then don't let these textual barriers stop you from jettisoning off and downloading the beta for Brutal Hexen right now.
You can nab the latest iteration of the beta over on Media Fire. If you're still not entirely convinced, you can check out a gameplay trailer for Brutal Hexen below. Enjoy.
Your Daily Blend of Entertainment News
Staff Writer at CinemaBlend.
Your Daily Blend of Entertainment News
Thank you for signing up to CinemaBlend. You will receive a verification email shortly.
There was a problem. Please refresh the page and try again.