Bus Simulator 16 Launch Trailer Shows Off All The Thrills Of Driving A Public Bus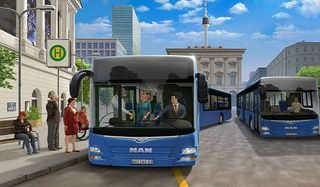 What's it like to drive a bus through busy city streets, pick up passengers and get them to their destinations in a timely fashion? It's a question that has plagued mankind since the dawn of time and, thanks to Bus Simulator 16, we may finally have our answer. As a prepper for this crash course in public transit, the team at Astragon has put together a brand new release trailer.
As you can tell from the Bus Simulator 16 trailer, the latest edition of the popular driving game is nearly ready to roll. Launching on March 2, you'll be able to step behind the wheel of six realistic buses and take on a game that grades you in important bus-related areas such as getting through your route on time, keeping your ride clean and handling random events such as passengers with wheelchairs and traffic jams.
There's even an online mode for this upcoming PC/Mac title that lets you pit your skills against friends or total strangers. And just for the heck of it, there's even going to be mod support. Infinite brownie points to the first person to make driving Cat Bus a reality.
Simulation games have really taken off in recent years. From Farm Simulator to Surgeon Simulator, Goat Simulator and beyond, people sure seem to enjoy playing games that have a narrow focus on a collection of given tasks.
I'm one of those people who usually uses video games to escape reality. I'll probably never be a super soldier or legendary wizard in real life, for instance. Still, as mundane as driving a bus in a virtual world may appear at first glance, there's something cathartic about stepping behind the wheel and just cruising around the city from location to location. Maybe it's because you don't have to deal with actual people and, if you get into an accident, there's no need to get insurance companies or the police involved.
If you're the kind of person who likes to punch tickets, open and close doors and plot routes for your very own bus company, then you'll want to keep your eye on Bus Simulator 16. It'll set you back $24.99 when it arrives next week.
And for those of you who live and breathe these kinds of games, we'd be interested in hearing what keeps you coming back for more in the comments section below. We're not talking about Destiny or League of Legends here, but I know there are fans who take these simulation games just as seriously as the most dedicated fans from any other genre. What makes them so special and why should those on the fence give them a try? I'm asking for a friend.
Staff Writer for CinemaBlend.
Your Daily Blend of Entertainment News
Thank you for signing up to CinemaBlend. You will receive a verification email shortly.
There was a problem. Please refresh the page and try again.