CES 2012: Turtle Beach Unveils Line-Up Of New Headsets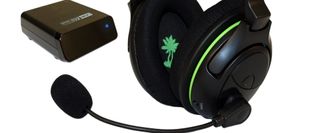 The upcoming Consumer Electronics Show will play host to a number of technological revelations across the entire electronics industry, including video games and gaming peripherals. One of the leading manufacturers of home console and PC headsets will be in attendance at this year's CES, with a number of brand new headsets that they plan to announce at the electronics show in Las Vegas, Nevada.
As stated in the press release...
It's very true that Turtle Beach had a good year in 2011, especially with their exclusive Modern Warfare 3 line of headsets for both home consoles and PC.
The newest line of headsets includes the Ear Force X42 Wireless Xbox 360 headset, the Ear Force X32 Wireless stereo Xbox 360 headset, the Ear Force DSS 2 Surround Sound Processor, and the Ear Force Z11 Wired PC headset. In addition to these a new line of mobile audio devices are also planned to be unveiled including the Ear Force M5, the Ear Force M3 and the Ear Force M1.
A complete description for each of the headsets can be viewed below. A detailed look at each of these devices will also be covered in Spike TV's live television coverage of the CES 2012 event beginning Tuesday, January 10th. You can learn more about Spike TV's live coverage over at their Official Website. Additional details and info on the headsets can be viewed below. You can always keep up to date on all things Turtle Beach by dropping by their Website (opens in new tab).
Turtle Beach CES Line-Up:
• Ear Force X42 Wireless Dolby Surround Sound Xbox 360 Headset
• Ear Force X32 Wireless Stereo Xbox 360 Headset
o Replacements for the very popular Ear Force X31 and Ear Force X41 models, these headsets include new 2.4/5GHz dual-band Wi-Fi technology that actively navigates the wireless landscape in your home or office and finds the open bandwidth to eliminate interference with 2.4GHz wireless devices and LANs. With massive 50mm drivers, the X32/X42 headsets will not only outperform their predecessors, they represent the ultimate blend of value and wireless performance for Xbox gamers.
o Ear Force X32 MSRP: USD $99.95; Ear Force X42 MSRP: USD $159.95
o Availability TBA
• Ear Force DSS 2 Surround Sound Processor for Stereo Headsets
o The latest iteration of Turtle Beach's award winning Dolby Surround Sound Processor (DSS), this updated model revolutionizes the surround sound experience with six variable speaker configurations, offering custom tuned angles to optimize the surround sound effect for any listener.
o DSS2 is sold alone, or bundled as part of several new Turtle Beach surround sound wired headset models, also debuting at CES.
o The Ear Force DSS2 is available now on the Turtle Beach website for USD $79.95
• EarForce Z11 Wired Stereo PC Gaming Headset
o The latest addition to the Ear Force PC headset lineup, the Z11 brings an affordable, high-quality stereo experience to PC gamers, with acoustically angled 50mm drivers for rich audio and crystal clear communication.
o MSRP: USD $39.95
o Availability TBA
• Ear Force M5: Mobile Gaming Headset
o The M5 mobile gaming headset features high-fidelity 40mm audio drivers and full-sized, noise-isolating ear cups with breathable mesh cushions for enhanced comfort. The M5 delivers premium audio quality for gaming or listening to music. Features an in-line mic with call control in a sleek, compact design for hands-free calling and crystal clear communication. o MSRP: USD $49.95
o Availability TBA
• Ear Force M3: Mobile Gaming Headset
o Designed for optimum portability, the M3 features a compact, fold-flat design for easy storage, while its comfortable noise-isolating ear cups and 40mm drivers deliver extreme comfort and high-fidelity audio. The M3 also includes an in-line mic for hands-free calling and online communication.
o MSRP: USD $39.95
o Availability TBA
• Ear Force M1: Mobile Gaming Earbuds with In-line Mic
o These noise-isolating earbuds are specially-designed for enhanced stability and comfort with an around-the-ear fit. They feature high-performance 10mm drivers with neodymium magnets that deliver a dynamic audio range with deep bass response and superior sound quality. The M1 also includes a sleek in-line mic and durable tangle-free braided cable.
o MSRP: USD $59.95
o Availability TBA
Image 1 of 5