Cabal Online Heads To Arcane Trace This Fall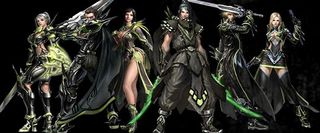 Everyone likes free stuff, and Cabal Online developers ESTsoft are well aware of that fact. That's why they're ending a month-long anniversary celebration with the announcement of the next batch of DLC content. It's called "Arcane Trace" and, you guessed it, it's going to be free.
Speaking of free things, Cabal Online is itself a free-to-play MMORPG, featuring all the questing, looting, monster killing and adventure you would expect out of the genre. The game is celebrating its sixth anniversary and, according to Games-Masters.com, it's been a wild 30 days.
Throughout the Cabal Online anniversary celebration, players took part in an epic adventure while looking for special items only available through the past month. In that time, players completed more than 1 million instances, killed more than 100 million monsters and looted tens of thousands of prizes.
The final prize is yet to come, however, as Arcane Trace is set to release sometime this fall. Here's what players can expect out of this ninth expansion to the game:
-A new map, accessible to players above level 180.
-A daily boss battle with the Arcane Golem of Rage, which promises tons of epic loot.
-A completely revamped crafting system, rebuilt to make crafting more engaging and profitable.
-Meister-level items, created exclusively for crafting.
-New charm accessories to make characters even more powerful.
-New bracelets and earrings.
-A new dance emote based on the Shuffle dance from LMFAO!.
To get in on all this new content, you're going to need to get your character up to a pretty high level. The expansion is due out sometime in the next several months, so you might want to get started ASAP. To do exactly that, head on over to the Cabal Online official website.
Your Daily Blend of Entertainment News
Staff Writer for CinemaBlend.