Call Of Duty 4: Modern Warfare - Level Cap Is Rising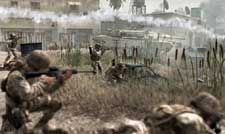 We just received another of those happy emails from Infinity Ward. You know, the ones with Call of Duty 4: Modern Warfare details. Our new best online gaming friends inform us that they are continuing to keep their word. They wanted everyone in on the beta, and they made it work. They promised international gamers would get to play, and now they are. The latest news brings us info on the level cap.
Starting Friday morning at 10am PDT the Rank level cap is being raised to level 16. Of course, that's far below the highest rank you can attain. But we'll get access to some new weapons and goodies. One of the first will be Clan Tags (lvl 12). Of course, everyone will hit the next cap within an hour of gaming and start begging for the next increase. Which Infinity Ward promises will come, this is just the first.
Stay tuned for more information on the COD4 multiplayer beta as it becomes available. And if you were taking a break this week, it's going to be a perfect weekend for killing friends and foes.
Your Daily Blend of Entertainment News
Staff Writer at CinemaBlend.