Call Of Duty: Modern Warfare 3 System Requirements Announced, PC Features Detailed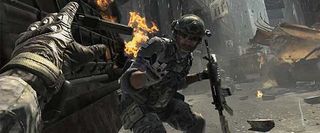 Infinity Ward released a new FAQ today for the PC version of Call of Duty: Modern Warfare 3. It discusses some of the features of that version as well as the minimum specs needed to run it.
MW3 will bring back dedicated servers or multiplayer, as well as an in-game browser so you can sort online matches by a number of factors including ping and current map. The matchmaking, lobby system, and Steam integration (friends list, Achievements, etc.) will make a return as well. LAN support will be included as well.
"Wait a minute, there's nothing for me to complain about in that paragraph!" a PC gamer might say. Well, if you're looking to boil your blood, note that the game won't ship with mod tools. Furthermore, the maximum number of players in a match is 18 (on Ground War), which might be too low by your taste. However, IW says that things might change for the better on both fronts after launch.
Recommended specs for the game weren't provided, but here's what you'll need at a minimum:
MINIMUM SYSTEM REQUIREMENTS:
OS: Windows® XP / Windows Vista® / Windows® 7
Processor: Intel® Core™ 2 Duo E6600 or AMD Phenom™ X38750 processor or better
Memory: 16 GB free hard drive space / 2GB RAM
Video Card: Shader 3.0 or better 256 MB NVIDIA®GeForce™ 8600GT / ATI® Radeon™ X1950 or better
Sound Card: DirectX® 9.0C or later
MW3 will arrive worldwide on November 8th.
Staff Writer at CinemaBlend.
Your Daily Blend of Entertainment News
Thank you for signing up to CinemaBlend. You will receive a verification email shortly.
There was a problem. Please refresh the page and try again.