Carol Vorderman And Sudoku In A Smoking Hot Trailer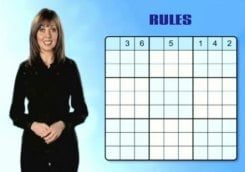 Don't bunch your face in a frown when I tell you that this trailer isn't all that smoking, or all that hot. I just used that headline because there's bound to be Vorderman fans out there who wouldn't pass up an opportunity to see Carol in a trailer that's headlined with "smoking" and consecutively, "hot". But while you're here, you minus well check out the scorching hot Sudoku trailer.
Well, it's not really scorching hot, it's just Sudoku. A game that's taken casual gamers by storm (and shame on you if you're a hardcore gamer who was taken by storm), Sudoku is a number game that requires too many words for me to explain here. However the trailer does so with flying colors. The popularity of this game has reached extreme heights, and that's why it will soon be available for the PSP, PS2, and PC next week. Below you can check out the tutorial and gameplay trailer of Empire Interactive's Sudoku with Carol Vorderman. Enjoy.
Staff Writer at CinemaBlend.
Your Daily Blend of Entertainment News
Thank you for signing up to CinemaBlend. You will receive a verification email shortly.
There was a problem. Please refresh the page and try again.