Cold Fusion: Cyber-Steam-Punk RPG With A Hint Of Nostalgia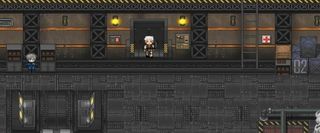 Cold Fusion: Secular Equilibrium is a post-apocalyptic, nostalgia-driven, cyber-steam-punk RPG. The game is an indie project and that shouldn't be a surprise given that other than CD Projekt's Cyberpunk and Deus Ex: Human Revolution, AAA cyber-punk RPGs don't exist. However, this indie project needs your help and it only has 10 days to go.
Right now Cold Fusion is sitting at $4,820 out of the total goal of $15,000. This is interesting because it's very similar to Hiro Fodder and Echoes of Eternia, two other retro RPGs using SNES 16-bit style aesthetics to help tell their story and offer gamers something a bit more classical in terms of gameplay.
The game received a little bit of help from popular artist Diego Candia, who provided some concept art and a brief look at how the game's cut-scenes will look. In addition to this, the game will feature some voiceover work for the cut-scenes, as well. The game is also scheduled to receive a full 15 track score made within the $15,000 for the project.
Cold Fusion's story revolves around an astronaut who witnesses World War III from space and with some cryo-tech onboard he decides that it's not safe to return to the planet due to the fallout. So, interestingly enough, he freezes himself only to wake up and return to a very changed Earth.
I like the idea behind the game and I'm definitely loving the cyber-punk/steam-punk vibe that it's set to have. I just don't think we get enough of it, and the last time it was done well was in Final Fantasy VII, which truly was a cyber-steam-punk society.
You can learn more about Cold Fusion or contribute a donation to the Kickstarter by visiting the Official Page. I'm hoping Dustin Gleaves gets the game made because we could really use some more cyber-steam-punk RPGs!
Staff Writer at CinemaBlend.
Your Daily Blend of Entertainment News
Thank you for signing up to CinemaBlend. You will receive a verification email shortly.
There was a problem. Please refresh the page and try again.