Concept Art From Warren Spector's Steampunk Mickey Mouse Revealed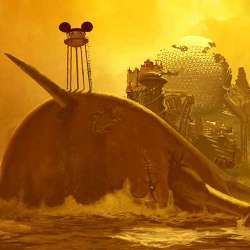 Deus Ex designer Warren Spector's project at Disney-owned Junction Point Studios has been shrouded in secrecy for years. Today concept art emerged that suggests he's making a steampunk version of Disney mythos.
No, seriously. Superannuation discovered that artist Fred Gambino has a few pieces of concept art from this so-called "Epic Mickey" game. A NeoGAF user stumbled upon some similar art at the online portfolio for artist Gary Glover. It's a dark, industrialized take on Disney. One of the pieces of art shows Goofey with mechanical limbs.
The images fit a description of "Epic Mickey" by Gamasutra late last year. As that article pointed out, it's not clear whether these ideas have been incorporated into Junction Point's game. There's been no official statement from Junction Point about the leaked images, either. They sure look neat, though.
Image 1 of 13