The Conduit's New Multiplayer Trailer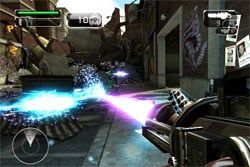 For those FPS fans who are (for whatever reason) still clinging to their Wii for their kicks, June 23rd, 2009 will be a big date. For Americans, this is the day that The Conduit, the highly anticipated Wii shooter developed by High Voltage Software and published by Sega, will be released.
The game has been confirmed to have 12-player online support, as well as voice chat. The voice chat is pretty gimped, however, since it uses WiiSpeak and will only let you talk to players close to you. I have no idea how that's a good idea, and it pretty much erases the usefulness of voice chat entirely. Now the ONLY person I'll be able to chat with will be the pedophile stalking me. Thanks, Nintendo.
In all seriousness, though, check out this multiplayer actually looks pretty good. Check it out for yourself below.
Your Daily Blend of Entertainment News