Corsair Releases New K70 Mechanical Gaming Keyboard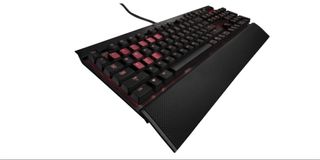 In need of a new keyboard? More importantly, in need of a new gaming keyboard? Well, Corsair may have you covered with the new K70 mechanical gaming board.
Corsair sent out word that they have recently let loose the new Cherry MX K70 board that features some vibrant red backlighting that shines through on the keys that you want. This is actually a pretty snazzy feature as it means that when you're playing late into the dark quarters of the night, you can use the per-key backlighting to highlight only the keys that you want using the new onboard memory function to save and store your specific, user settings.
Jason Christian, product manager for gaming keyboards and mice at Corsair commented about the new board, saying...
Hmm, so does that mean he went out and bought rival gaming keyboards and put them to the test? Interesting. I wonder if he sold them on eBay for $10 when he got done with them?
The keyboard comes with a soft, removable wrist-pad, easy access to media controls right there on the face of the keyboard, as well as three different mechanical switch types for various gamers/typers.
I have to be honest: gaming keyboards were never really my thing given that I've always preferred controllers, where-applicable. Still, I don't think that the K70 out-classes many of the standard offerings from Cyber Snipa, given that in the latter's case you get built-in macro functions that you can auto-assign to 10 specific macros keys. I've never had to use macro keys before, but I imagine that they might be useful for those of you who are heavy into MMO games.
In fact, the Cyber Snipa PC Gaming Pad v2 offers the portability of a gamepad but the reliability of a keyboard and is only $31.99 at Xoxide. If you actually do need a new keyboard, you can actually get a Warboard for only $29.99 from Xoxide. That's $100 cheaper than Corsair's K70 gaming keyboard, and you get more functionality out of it.
However, if you really want the backlighting offered in the K70, I suppose that would be the make or break point with Corsair's offering and the reason it's $100 more than Cyber Snipa's offerings.
You can grab the K70 right now for $129.99 with a two-year warranty. You can learn more about the Corsair K70 gaming board by paying a visit to the official website.
Your Daily Blend of Entertainment News
Staff Writer at CinemaBlend.