CrimeCraft: Gameplay Media Blowout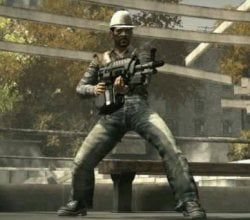 In addition to the game being made available for Canadian and North American gamers (starting yesterday), a series of new video trailers were released to help spread the word that the MMORPG shooting game is currently available. And you can check out all the new trailers right here at Blend Games.
CrimeCraft is a unique blend of first-person/third-person action shooting but set within the parameters of an MMORPG; players can customize their character, upgrade skills and earn attribute points. It's an awesome concept for an under-utilized genre that definitely needs to see more exploitation.
The five new trailers below showoff a series of stylized gameplay techniques, all of which can be used in the game, exactly as they are shown in the videos. The "Spary and Pray" trailer is probably the best, with hints of Scarface tossed in there. Did I also happen to mention that you can customize your weapon? Yeah, well that's also shown off in the videos, too.
You can learn more about CrimeCraft by visiting the Official Website. For more gaming news, updates, info and media, be sure to stay tuned in with Blend Games.
Staff Writer at CinemaBlend.