CryZone: Sector 23 Mod Puts STALKER In CryEngine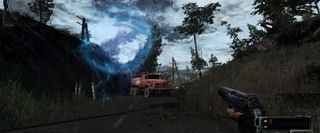 Team WOS released a new beta for their ambitious project that sees them completely rebuilding GSC Game World's S.T.A.L.K.E.R. A-life ecosystem on top of Crytek's Crysis. The result? Cryzone: Sector 23.
DSO Gaming is reporting that the team has finally unveiled the next step in their beta for CryZone: Sector 23, which enables gamers to test out and explore the densely populated world of Sector 23.
Much like GSC's S.T.A.L.K.E.R., gamers will be able to freely roam around, interact with other stalkers, hunters and bandits, as well as hunt for artifacts through anonamolous zones and even take down popular monsters from the popular Ukrainian-based FPS.
However, what makes the mod so cool is that it's not just taking one game and putting it on top of the engine that powers another game, oh no, it's much more than that. Team WOS actually took all the great aspects of S.T.A.L.K.E.R. and fused them with the technologically advanced software of Crysis, which means that full destructibility is present, useable vehicles, advanced lighting and dynamic weather effects. If you always wanted to play S.T.A.L.K.E.R. on a more advanced game engine, well, here's your chance.
You can download the mod for the original Crysis by visiting the Official Website.
Staff Writer at CinemaBlend.
Your Daily Blend of Entertainment News
Thank you for signing up to CinemaBlend. You will receive a verification email shortly.
There was a problem. Please refresh the page and try again.