Crysis Wars Is Free Again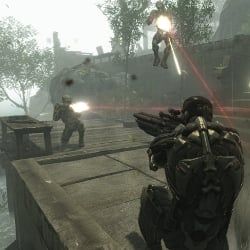 Today Crytek wheeled out another free trial for their multiplayer FPS Crysis Wars. For the next ten days, you can duke it out online or via LAN.
To participate, you'll first need to download the game files from BigDownload, FileShack, FilePlanet, or FileFront. After you're done doing that, head over to MyCrysis to register and get a trial CD-key. This key will allow you to play Wars until Tuesday, December 29th.
Crytek obviously hopes that some of you will enjoy the game and buy it once the trial period concludes. However, you can also get a permanent CD key for the game by participating in a screenshot competition. MyCrysis will be giving out 100 keys to the users who submit the best shots from their multiplayer matches.
Staff Writer at CinemaBlend.
Your Daily Blend of Entertainment News
Thank you for signing up to CinemaBlend. You will receive a verification email shortly.
There was a problem. Please refresh the page and try again.