Daily Wishlist Giveaway Begins On Steam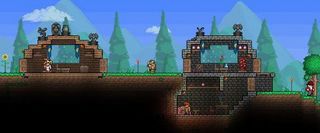 Today the digital games store Steam launched its Daily Wishlist Giveaway. Every day this holiday season you'll have a chance to win 10 of your most highly desired games.
To enter, create a free Steam account. Then, fill out your Wishlist with at least 10 games available through Steam. Each day, Valve will select 10 people and give them the top 10 games on their Wishlist.
There's one tricky part to the giveaway. Every day you need to log in and visit the featured daily deal. It'll be mentioned at the top of the Steam homepage. By simply visiting the product page for the deal, you'll be entered for the daily drawing. It's a clever way for Steam to drive traffic to its sales.
Today, the deal is for indie action RPG Terraria. The trailer for that game is below. It's being offered at a 75% discount, bringing the price to a mere $2.50.
Steam's giveaways will run throughout the holiday season. A firm end date wasn't provided. It'll only get harder and harder to win as more people fill out wishlists, though, so you might as well enter as soon as you can.
This holiday season was pretty loaded with big releases so you should have plenty of games to fill out your wishlist. Considering that I'm still playing Elder Scrolls V: Skyrim after about 50 hours of gameplay, I'd suggest putting that one somewhere on your list.
Staff Writer at CinemaBlend.
Your Daily Blend of Entertainment News
Thank you for signing up to CinemaBlend. You will receive a verification email shortly.
There was a problem. Please refresh the page and try again.