Darkest Of Days New Level Editor And Game Updates Released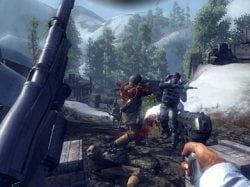 For those of you who love time-traveling to different eras and laying waste to bad guys using weapons that don't belong in that era will probably get a kick out of the new updates for 8monkey Labs' PC version of Darkest of Days. The new update for the game sees the addition of the new "Instant Action" mode; a few fixes to the game have been made and a new level editor has been released for players who want to create their own era of mayhem.
In the press release, Mark Doeden, director of 8monkey Labs, commented saying…
Sounds like a lot of fun…microwaving Roman soldiers. Ah, we just don't get enough of that in games these days. In addition to all of the listed features and updates, players will also be able to make graphical mods for the game with the shader code being unlocked in the proprietary Marmoset Engine. That's not to mention that graphical fixes for ATI and OpenAL users have also been implemented.
Need to learn more about Darkest of Days or get your hands on the new game assets? Well, head on over to the Official Website to start downloading the updates.
Staff Writer at CinemaBlend.
Your Daily Blend of Entertainment News
Thank you for signing up to CinemaBlend. You will receive a verification email shortly.
There was a problem. Please refresh the page and try again.