Darksiders 2 App Lets You Harvest Souls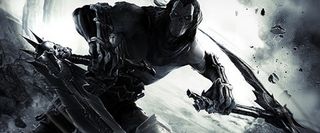 Want to reap the souls of mortals? There's an app for that. No, really. THQ yesterday released the Darksiders II Soul Harvest through the App Store, allowing iOS users in the U.S. and Canada to collect the souls of the living in order to unlock some in-game goods for the upcoming Darksiders II, as well as enter to win some daily and grand prizes.
You know how your friends are always checking in on Facebook to let folks know where they are? You know how that always upsets you because, really, who wants to know where anyone is 24 hours a day? Well, now you can take advantage of that vanity with the Darksiders II Soul Harvest app. When someone checks into nearby locations on Facebook, your new app will "collect their souls", earning you tokens and moving you further up the leaderboard. Given the release of The Dark Knight Rises this weekend, I'm thinking all of the nearby theaters would be an excellent place to start your soul harvest.
Collecting souls will allow you to unlock various bonuses within Darksiders II, which is set to release on Aug. 14, as well as some goodies for your phone. These items include a special weapon in the game, the first issue of the Darksiders digital comic, mobile backgrounds and more. You'll also gain access to special daily drawings for items like a life-sized replica of Death's scythe, as well as a grand prize drawing for a trip to the Yucatan Peninsula, home of the Chicxculub crater that supposedly marks the landing spot of the meteor that wiped out the dinosaurs. (Super fans of Dead Space will know this site is actually home to a Marker that turns people into murderous monsters, but that's a totally different story.)
The final bit of news is that the app has been released in partnership with Best Buy, so you'll get extra points for harvesting souls that have been lost in that particular brick and mortar location.
To get to harvesting, head on over to the App Store (opens in new tab) and download the app for free.
Your Daily Blend of Entertainment News
Staff Writer for CinemaBlend.
Your Daily Blend of Entertainment News
Thank you for signing up to CinemaBlend. You will receive a verification email shortly.
There was a problem. Please refresh the page and try again.