Das Tal, Diablo Meets DayZ MMO-Clone Public Alpha Starts Soon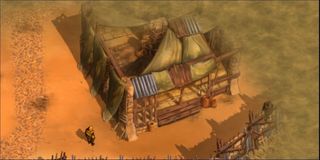 If you remember the days of open-world, sandbox MMOs like Ultima Online or Dark Eden, you might remember that there was a time when logging in and creating a character meant that beyond that point you weren't going to be safe and you were at the mercy of any and every other player out there who only wished to rape your pride and ravage your inventory.
Well, that time is about to come back to the surface. While gamers may or may not enjoy what Mortal Online has to offer, the upcoming Das Tal from a group of independent German developers offers a similar experience from an isometric perspective.
The game will aim to take the fast-paced gameplay from Diablo and fuse it with the crafting and survival mechanics found in games like Diablo, Rust or DayZ.
The game will feature non-targeting gameplay, similar to titles like Vindictus or The Incredible Adventures of Van Helsing. Players will be required to use wits, skill and strategy on the battlefield as they attempt to survive against the harsh environment and other players. Cunning and teamwork will be essential for survival.
The team, Fairytale Distillery, are currently moving the game through the conceptual phase of development and into the alpha phase of playability. The game is on Steam's concept approval page at this very moment, gathering feedback and comments from the community about the title.
In addition to killing or being killed, the game will also have a strong focus on crafting and gathering. Unlike other games where you're trying to find 10 lillipads from a designated area of tree-lickers, Das Tal enforces the harsh reality that gathering resources at any time can be a dangerous and deadly thing. There are no safe zones. This means that everything you do could be the last thing you do.
This kind of open-PVP, MMO setup could make for some fascinating gameplay growth, assuming the game can keep and maintain an audience.
According to the team leader, Fairytale Distillery is scheduling to bring Das Tal into a public alpha phase very soon.
Game titles coming to the public this early in development definitely need to prove their worth, so hopefully Fairytale Distillery has their gonads buckled down tight and a good, clear vision of how they plan to execute their vision.
The game will be entering a playable prototype soon, but you can keep up to date on the game's progress and the move toward that alpha test by paying a visit to the game's official website.
Staff Writer at CinemaBlend.
Your Daily Blend of Entertainment News
Thank you for signing up to CinemaBlend. You will receive a verification email shortly.
There was a problem. Please refresh the page and try again.