DayZ Standalone Sells 730,000 Copies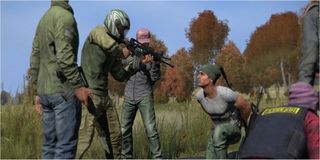 The DayZ alpha is continuing to hit strides, massive strides. The latest data has revealed that Dean "Rocket" Hall and crew are practically three-quarters complete of the one-million mark as far as sales go for DayZ, with the reports indicating that the game has shifted more than 730,000 copies to date.
Gamer Headlines busted out the story as they reported on the incomplete, zombie-survival alpha game managing more than 400,000 copies sold the first week of release, following on the very impressive 172,500 copies it sold within 24 hours of going live.
The sales momentum only seems to be growing, moving through Steam's end-of-the-year winter sale as the top selling game on the digital distribution platform. In fact, DayZ – even while being made available for £20/$30 – still managed to top Steam's top 10 weekly sales chart, two weeks in a row. That means that Far Cry 3 at 75%, BioShock Infinite at 75% off, X-Com at 75% off and even Tomb Raider at 80% off still couldn't best the non-discounted "alpher" of DayZ. That is darn impressive.
I'm sure some of you are wondering exactly what makes DayZ such a phenomenon, and a lot of it has to do with the fact that it's completely unpredictable and entirely emergent. There are no set paths, linear storylines, preset character progression or AAA-style hand-holding going on. The game dumps players into a harsh and unforgiving open-world where survival is key and surviving is not guaranteed.
Players will have to scavenge for food and water, clothes to stay warm, antibiotics to keep from getting diseases, bandages to heal wounds and shelter to stay hideaway during the black-cloaked evenings.
The real challenge, however, is overcoming the twofold threats of zombies and other human players. Zombies will always want to kill and eat you. Players are unpredictable.
The volatile nature of DayZ has spawned its own meta-culture through social communities like Reddit and YouTube, and has helped the game become popularized within gaming circles for its oftentimes intriguing player-made narratives that sometimes end happy, but oftentimes don't.
Take note that the game is still in a rough state of development. There are no vehicles in the game just yet and server stability is still key. However, Bohemia Interactive have managed the load quite well and there's a handy newbie guide available for those who need a few hints and tips to help get them started in the Eastern-Europe wasteland.
I imagine it won't take long for "Rocket" and the team to let everyone know that they've hit the million-mark, and it will be an exciting time given that this will be one of the first non-marketed indie games (still in alpha state) to sell a million copies with little more than word-of-mouth and a strong following of dedicated gamers looking to engage in interactive entertainment that isn't another hand-holdy Hollywood blockbuster ride.
Staff Writer at CinemaBlend.
Your Daily Blend of Entertainment News
Thank you for signing up to CinemaBlend. You will receive a verification email shortly.
There was a problem. Please refresh the page and try again.