Dead Island Website Up And Running - New Screenshots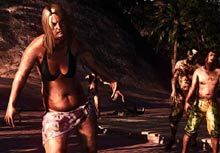 Techland's Dead Island, a zombie survival horror game scheduled to be released in 2008, is finally online at www.deadislandgame.com. The site provides trailers, screenshots, and a basic rundown of the game including the back story and the main features.
It's an interesting story that is finally straying from the norm. No more malls, no more dark houses, no more sewers teeming with the undead. Instead, you're on a sunny island with lush forests, beautiful beaches, and resorts that should be flowing with life. A plane crash brings a romantic couple's vacation getaway to a halt by landing them in the middle of this verdant paradise. When the main character comes to, he finds his wife is missing. On a quest to find her, you will discover why these beaches are empty, and that even a glorious vacation spot can be as terrifying as the darkest haunted house.
Check out the two new hi-res screenshots in the gallery below.
Your Daily Blend of Entertainment News
Thank you for signing up to CinemaBlend. You will receive a verification email shortly.
There was a problem. Please refresh the page and try again.