Dead Rising Motivational Posters Mix Virtues, Zombies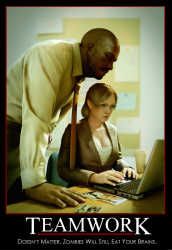 Capcom has released six Dead Rising motivational posters that tout the qualities necessary to succeed in business and/or survive a zombie apocalypse. Parody versions of motivational posters isn't anything new but these have zombies so they're automatically cool. Sorry, that's just the rule.
The best one by far is "TEAMWORK: Doesn't matter. Zombies will still eat your brains." Another one of the posters contains an regrettable "does this ____ make me look fat?" joke. Mixed bag, all in all. Check 'em out below.
The posters are no doubt hung around Capcom's offices to inspire them as they work on Dead Rising: Chop Till You Drop, the Wii remake of the 2006 Xbox 360 action game. Chop Till You Drop is due in stores in North America on February 24th.
Image 1 of 6